This bag die is called the Gift Bag Card Die by Honey Bee Stamps. It is made to hold a full size card - NOT gift card size and comes complete with the die that makes the tissue paper for stuffing and tags for hanging.
You cut two pieces for the bag and glue them together, one piece for the tissue paper and choose a tag.
The pattern for the paper slippers can be found in my 12 Days of Christmas 2012 edition tutorial available on the tutorials page of this blog.
I used the FSJ Cozy Prints patterned paper and Candy Apple Satin Ribbon for the handles. I cut Candy Apple and Black Licorice Circles, a snowflake by The Stamp Market and then added the slippers. The tiny snowman are from the FSJ stamp set, Winter Build a Scene. I added Journey Glaze to the snowman to make them shiny.
This bag is going to be making a lot of appearances on my blog, it's perfect for delivering birthday cards and Valentines. I love this die!
Look how cute that tissue paper is. I cut one in Vellum cardstock and one in White Mulberry paper. The Mulberry is by far the most real looking yet sturdy enough to stand up. The die has little stitches in it to make it defined...dang cute and awesome engineering on this die!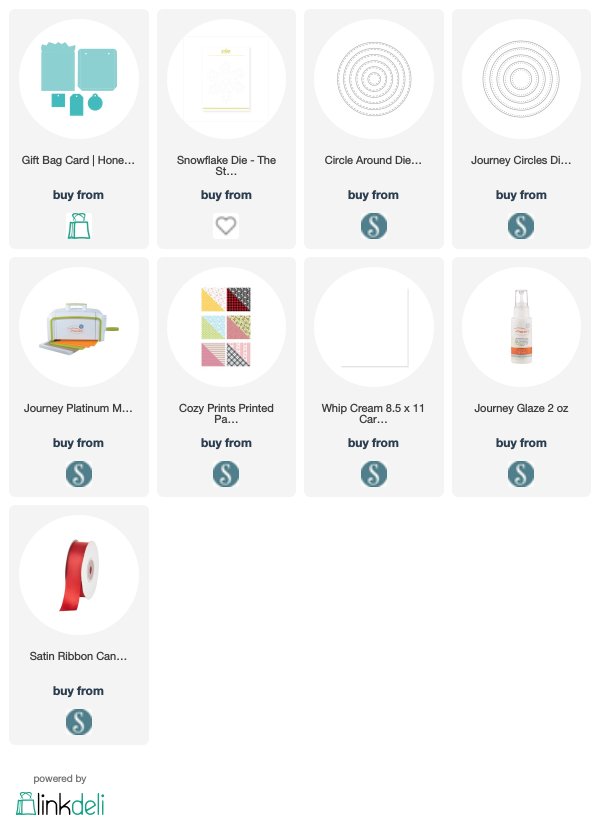 Hundreds of new markdown - up to 70% off at Spellbinders + FSJ. Check it out!